I bought this scooter in 1972 for $100.
(not this exact scooter, but one just like it.)
I rode this scooter to school when I was in the 8th grade.
I also used it to deliver the evening newspaper in my neighborhood.
The design led well as a delivery vehicle.











This poor scooter put up with a lot from me. I was (and still am) quite a tinkerer. When the clutch cable broke I rode aroung by 'power shifting' the gears. After a week of this my Dad told me that was not a good idea. After searching high and low (in 1973) we were not able to find a replacment clutch cable. So being the genuis that I was, I figured that I didn't need a rear brake as much as I needed a clutch so I disconnected the rear brake and used the brake cable and pedal on the floor for the clutch. This was good! I no longer had to run along side the scooter untill I built up enough speed to jump on and 'clunk it' into first gear. But, I did wear out the front brake and broke the front shock. As you might have guessed, the front shock was even more difficult to find. Without a front shock the scooter would shake like crazy when you tried to stop.(remember, there was no rear brake!) With it's lack-luster braking cababilities, it didn't take long till the scooter started crashing into things.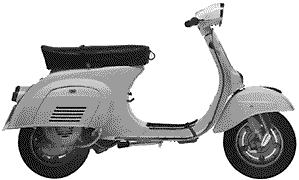 After multiple crashes, the scooter's life was over.
My next ride was a Kawasaki 90 street bike I bought from my older brother, Kevin