!bgsound src="sounds/cb360.mp3" loop="-1"> <!bgsound src="music/oldtimerockandroll.mid" loop="-1"> <!bgsound src="music/danger.mid" loop="-1"> <!bgsound src="music/alivekik.mid" loop="-1"> <!bgsound src="music/brokenw.mid" loop="-1"> <!bgsound src="music/jump.mid" loop="-1"> <!bgsound src="music/longfellow_serenade.mid" loop="-1"> <!bgsound src="music/rulewrld.mid" loop="-1"> <!bgsound src="music/sldghamr.mid" loop="-1"> <!bgsound src="music/tainted.mid" loop="-1">

<!BODY BGCOLOR="000000" TEXT="#ffffff" LINK="#ff6600" VLINK="#989898" ALINK="#ff0000"> <!body background="images/cb360/cb360back.jpg">

Leonard's



SECA II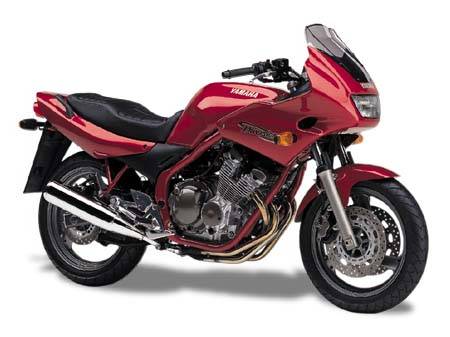 Yamaha XJ600 Seca II
(from Motorcycle-on-line)

No surprises here. The Seca has been around a while, is a smooth, well finished piece of kit, offering rakish good looks with its slanted-forward engine and single-color paint scheme. Simplicity is the theme, and it extends to minimally adjustable suspension, a single front brake disc and that rounded off, air-cooled engine, a 600cc four-cylinder with double overhead cams and two valves per cylinder.

The 600cc Seca was no doubt the inspiration for Suzuki's Bandit, and comparisons are useful. Both offer semi-naked good looks, with half fairings and exposed engines. Yamaha offers a bright red Seca for those that like the panache of the Bandit, but also a nicely muted black for those whose tastes run a little less loud. The rounded, air cooled engine makes less of an impression than the Bandit's powerful air- and oil-cooled mill.

The tastefully slanted forward engine is the most radical looking of all the test bikes' powerplants, yet it's one of the simplest, with just two valves per cylinder (a trait it shares only with the Sportster, which has been around far longer). Easing maintenance costs, those two valves are designed to go 15,000 miles between adjustment intervals, and when adjustment is needed, the shims are located on top of the bucket, so cam removal is unnecessary.

It is, however, a cold-blooded engine, requiring several minutes of warm up before the Seca will tolerate any rider at all on its back. Once it is on the move, don't expect superbike performance. Carburetion is by 26mm carburetors. The low 10:1 compression and 9,500rpm redline explains the rest: Fuel economy, you'd think, would be sensational, given a significantly lighter weight and smaller carburetors, but that again is surprisingly average, at around 45 mpg.

The Seca's seat is lower by a good inch,than other bikes in it's class allowing the rider to duck down beneath the fairing airflow. The low-geared Bandit buzzes its handlebars irritatingly with high-pitched secondary vibration at higher freeway speeds, while the Seca is much smoother at speed. Gearshifting is light and positive, perhaps the best of the lot, and the clutch action is easy.

In the bends, the Seca's soft suspension repays a smooth riding style. The rear shock offers preload adjustment only, the front suspension is non-adjustable, and both ends are too soft for serious bend swinging. Both front and rear wheels are narrow by sportbike standards, both come equipped with less than wonderful Yokohama 209 tires, and the rear tire is a comparatively rare 3.5x18" a size for which finding replacement rubber in years to come may prove more difficult than the more common 4.5 by 17 inchers used on others. If low price with high style matters to you, then the Seca II is the one.


1996 Yamaha SECA II (XJ600S) Specifications
Type
4 Stroke, DOHC, Air cooled, 2 valve, inline four
Displacement
599.0 cc
Bore & Stroke
58.5 x 55.7 mm
Compression Ratio
10.0:1
Maximum Torque
5.6 kg-m (40.5 ft-lb) @ 7,000 RPM
Carburetion
BDST28
Ignition
Digital TCI
Starting
Electric
Lubrication
Wet sump
Oil Tank Capacity
2.9 litres (2.6 Imp qt)
Transmission
6 Speed
Overall Length
2,095 mm (82.5")
Overall Width
750 mm (29.5")
Overall Height
1,220 mm (48.0")
Wheel Base
1,445 mm
Ground Clearance
150 mm (5.9")
Seat Height
770 mm (30.3")
Dry Weight
185.0 kg (408 lbs)
Fuel Tank Capacity
17.0 litres (3.7 Imp Gal)
Suspension
Front
Telescopic Fork
Rear
Monocross
Brakes
Front
Dual Discs
Rear
Single Discs
Tires
Front
110/80-17
Rear
130/70-18


Click the links below to see our other bikes
<!Begin Links section>

Click on the links below to see more details on our bikes :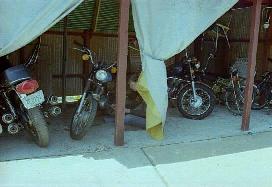 Click here to see the bikes from our youth
<!End Links section>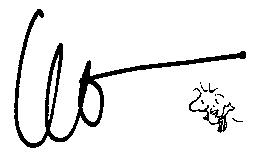 Leonard.
Back to Leonard's Home Page